Fernandez Finds Outlet in Poetry
Julian Ferandez is a senior at Limestone Community High School and has a unique hobby of writing poetry. Ferandez writes poetry because it's a way to express emotion through words, it's a way of Ferandez to interact with his inner self. 
Ferandez writes about life and challenges most people face and how to get through them; he also enjoys writing  about spreading love and finding peace within yourself. Fernadez says, "I enjoy most poetic styles but free verse is my most used." 
Poets that have influenced Ferandez the most are Ralph Waldo Emerson and Henry David Thoreau.
One of Fernandez's favorite poems is, "When Alone You Find Yourself."  Fernandez explains, "It talks about being alone and struggling through life, yet I go on to explain my reason for living and the reasons why you're not alone." 
Fernandez's advice to write poetry is to dig deep down within yourself and find what drives you and what makes you who you are because those feelings when expressed through poetry could be more influential than a person may know and could capture the hearts of many who read them.
"
A dark orange haze coated the sky with great malevolent prowess. The once luminous light that once polished the blue waters of the rivers stream and shimmered in the eyes of Mother Nature. Now Vacant, Diminished to a dreary world of dismal. From the bitter dryness of the land; The light that once shined beauty upon the abundant life that accompanied the presence of Mother Nature. Set to blaze in a fiery of flames. The ground at which life walked and the trees in which life lived, all now swarmed by the inescapable reign of an oppressive wall of fire. Smoke accumulates and rises to the heavens darkening the once vast blue sky; With the only light now visible is the light from the thriving wildfire in the distance. Sometimes the darkest of days brings the right kind of change. Through The Never Ending cycle of tragedy we encounter as life goes on we all have days where we struggle to find Hope in the dimmest of light flickering on and off struggling to keep shining. In the darkest hours of night as we close our eyes escaping into a reality where we perceive the world as a reflection of our inner selves. Sacred it truly is and sacred it will forever be although as we open our eyes once more we are met with the beauty of the sun pleading to us a new day. What that new day holds could be up to us or as fate comes along and makes up the fragments of our day. So as the morning sun shines vibrantly through the shades; giving us a sense of warmth as we ponder what the day has in store for us. It could hold hardships, happiness, sadness, anxiety, hope, gratitude. All these emotions could be what we experience every day. As an individual in this oasis of human beings we all tend to dwell upon the past, present, and future. We are worried about what we do right now and how it affects us in the future so we are then scared of the future, but once we are met with that future we dwell upon the choices we made and the dark times we went through in the past that put us through what we're going through in the present. It's a cycle we go through as we traverse our way through life. Every day that we went through has in return shaped us into who we are right now. Even as we are faced with hardships and losses along the way we still have the power to use those dark days as a learning process for the person we want to be with you yourself as a driving force in life we can use those dark days we went through to shape the road of life ahead of us into the right kind of change."
— Julian Fernandez
About the Writer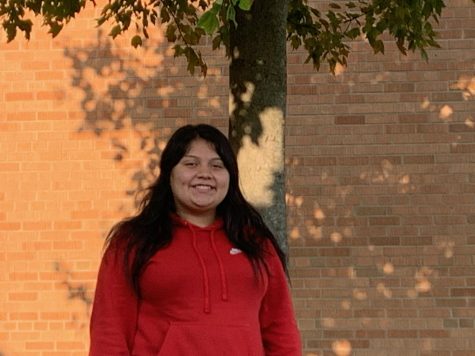 Maddeonna Menchaca, Writer
 

Maddeonna Menchaca is a junior at Limestone Community High School.  Menchaca enjoys cooking Hispanic foods like tamales or chorizo. She also enjoys...