IBEA Conference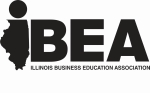 Illinois holds an annual fall conference called the IBEA conference which stands for Illinois Business Education Association. Two business teachers at LCHS had the pleasure to attend the conference this year, Julie Powers and Josh Ebbert. This was Powers' first time attending the conference after not going for several years while Ebbert had gone to the conference multiple times in the past. Ebbert was also recently elected IBEA president.
The IBEA conference is a conference where business teachers from across the state can gather together and discuss what they're teaching. It is a great opportunity for teachers to learn more about what is going on in other schools and receive more information about business education as a whole.
Powers was given the opportunity to present at this year's conference where she shared some of the knowledge she learned over the years and received amazing feedback from the people who listened to her session.  "It reminded me of why I became a business teacher," Powers says as she describes her experience at the conference. She thanks Ebbert for pushing her to attend this conference again because it made her feel at home and welcomed. She explains that she is privileged that she works at a school with four business teachers because some schools only have one and it was great being able to bounce ideas off of other business teachers from the conference as well.
"I am always trying to make decisions that have the best interest of IBEA and its members in mind." Ebbert says as he describes whats it like being the president of the IBEA. Ebbert has worked his way up to president in the past decade. He has served almost 10 years on the board of directors before gradually moving up to vice president then president. He says its a busy job and requires a lot of dedication and time. He will be representing the IBEA at the Illinois Association for Career and Technical Education (IACTE) Conference later in the week. Ebbert also hopes to find ways to increase and add value to the IBEA membership.
There were two keynote speakers at the conference. One of the speakers spoke about how overwhelming it can be as a teacher while the other speaker focused more on technology and Powers enjoyed both presentations. Other session topics at the conference were about how businesses use social media to their advantage, social media influencers, and TikTok. They also shared information about accounting and marketing. 
All in all, the IBEA conference was described as an enjoyable and educational experience for business teachers to attend. The conference gives teachers the opportunity to learn more about business and technology and what teachers can do with that information along with how they can incorporate it into the classroom.