Love Like Lija loves Limestone
Limestone was awarded four grants to help Limestone spread love and compassion throughout the community. Student Council, Creating Champions, Key Club, and junior Ava Hopwood all received grants.
LLL, founded in 2017 by Angie and Phil Hyssong in honor of their daughter Lija, who unfortunately passed away in 2014, offers funding to service projects to spread compassion and kindness. Lija was described as a caring, compassionate, and loving-spirited person.
LCHS alum, Tiffany Olson, is the Foundation Administrator for LLL. When asked what LLL does, Olson stated, " A young person might have a cause or organization she feels passionate about. Perhaps she wants to help but doesn't know how to make that happen because she lacks the financial resources. That's where Love Like Lija comes in."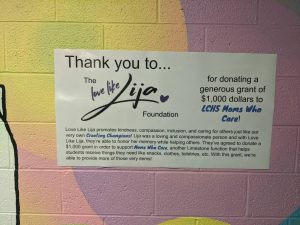 Individuals and organizations may complete a simple grant application online which is then forwarded to Olson, who reviews it before passing on to the LLL board for consideration. In the case of LCHS, Olson contacted Lisa Bentley and Amber Hopwood, who were former classmates and friends who she knew were doing work as Key Club Advisor and Moms Who Care volunteer.
Olson was told about the garden project Key Club was hoping to take on. She then encouraged them to apply for a grant that they then won!
LLL also awarded a grant to Creating Champions and Moms Who Care and Junior Ava Hopwood.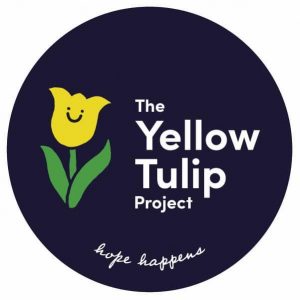 The Key Club was awarded a grant for their garden project, the Yellow Tulip Project. This is a project that brings awareness to mental health. They will plant tulips during winter to show that even going through something tough like a cold, Illinois winter, you can still turn out amazing and even better in the spring. Sophomore Key Club president Claire Kocher said, "This will bring awareness to mental health and will hopefully normalize it and help people who are struggling with their mental health or a loss resulting in poor mental health".
Student Council was awarded $1000. Advisor, Mrs. Stacey Seals explained how they used this money to make turkey baskets for families that were unable to provide a Thanksgiving meal this year. Student Council used the money to purchase130 turkey, cooking bags, and foil pans for the baskets. Seals said, "This year has been especially tough on many families and we were glad with the help of LLL to be a blessing to 130 families in the LCHS school district".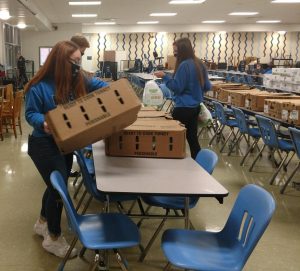 Creating Champions partnered with Junior Ava Hopwood to shop for Moms Who Care.  The two grants combined were able to provide Limestone students with basic needs.  Taking advantage of early dismissal, Hopwood and Creating Champions students boarded the Rocket bus to shop at Bath and Body Works and Wal-Mart.
Co-advisor Mrs. Linda Tucker shared, "It helped students in Creating Champions to think of their peers and showing support for students and families who struggle financially just to meet their basic needs.  It helped the students who use the Moms Who Care program to have an opportunity to get some new things that they would like picked for them by peers.  Also one Creating Champion's student was able to help us informatively shop for the hair care needs of our racially diverse student body.  Our overall hope is that it helps all students feel included and cared for by the community."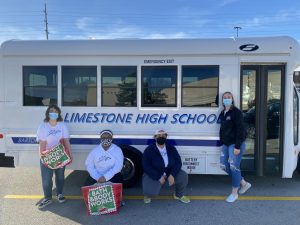 Limestone is grateful for the opportunity to shower the community with love and kindness just like Lija.