Rocket Day remote artists
Guest artists provide professional examples during remote learning days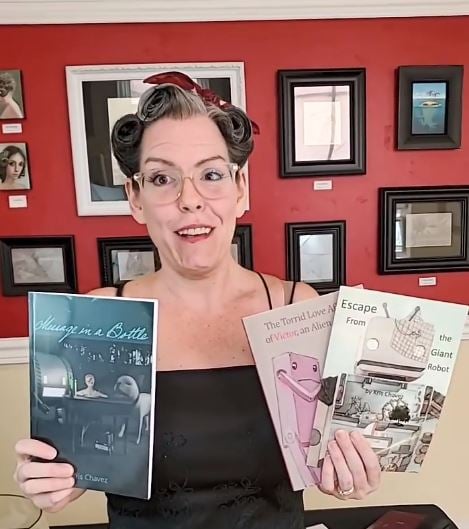 Art teacher Lisa Bentley is hosting guest speakers on Rocket Day Wednesdays for her students via Google Meets.
Each week with a scheduled remote day,  Bentley hosts a speaker involved in the arts, whether they are an artist themselves or they are involved in the business aspect of it. The speakers try to meet with every class that day, but due to varying schedules and some of the speakers being in different time zones, Bentley records the talk to show to her other students that were not able to join the live Meet. 
Every week Bentley explains to the class who the speaker will be and has them write down questions that would like to ask the speaker. This allows for the students to find out more information about what they may do to pursue something in the art industry. It even helps them get advice on college classes, life, and career opportunities.
"I hope it is impacting the students in a positive way," said Bentley. This gives students the opportunity to look at other occupations in the art field from people who actually work with art every day. "They are able to give a new perspective that might inspire a student to try something that could impact the rest of their lives," explains Bentley. 
"I like hearing about their process to where they are now.  I like hearing their progress up to now.  It shows me what they went through, so if I want to be an artist, then I have an idea of what it is like," explained sophomore Alana Sandberg
Speakers come from a variety of art industries. Speakers to date have included: Dane Georges, freelance illustrator and designer in Chicago, Desarae Lee, a fine artist and illustrator from Salt Lake City, William Butler a Graphic Designer and Illustrator from the suburbs of Chicago, and Vial Olinger who is currently enrolled in a program for Exhibition Management and Art History at Columbia College in Chicago.
Rocket Day guest speakers have been a way for Limestone art students to find their passion they share with others and figure out ways to go about accomplishing their career goals.
Want to Learn more?
Click the link below to find out more about the guest artists and their work.
https://docs.google.com/presentation/d/1CVUouj0yfliK47KdKKinvnzo644HtUeeq9ycoRCbK-M/edit?ts=5f65081e#slide=id.p