Christmas In Alpha Park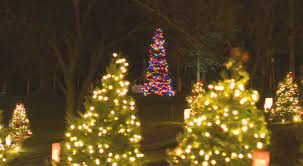 On November 27th the Limestone Township hosted a Christmas party at Alpha Park. Many groups attended such as Key Club, cheerleading, tennis, volleyball, wrestling, the art department, Madrigal singers, and more. Derek Roemer, the Limestone Township supervisor said, "It made a world of difference having the high school kids help out, and I think they all enjoyed it and want to help next year."
The trees are a big part of the magic of Christmas time. Having families come and light up and dress their trees in whatever they like is for some, a tradition. This is what the Limestone Township strives for. Bartonville is a place for families and a place that you take pride in knowing that not only are you supported but, you learn to come together and celebrate Christmas as one. Derek Roemer knows firsthand how hard it is to make something like this happen.
Roemer said, "My friend Heather Robinson and I added lights to a few trees that were in the park three years ago then realized that we could do more with this." It all started from a simple idea, one that would inevitably make Bartonville a place for holiday cheer. Three trees then turned into 50, which they sold to families and businesses that wanted to sponsor them, then that 50 turned into 100 trees. This year we had 200 trees. Regardless of whether it was 50 or 200 trees,  the end goal was still the same, make Bartonville light up with generosity and hopefulness.
Trees were purchased in the fall by community members in Limestone township, the park was set up in mid-November, and a grand opening was held the weekend after Thanksgiving with the trees decorated for all to enjoy.  Saturday, November 27 the township hosted a community party with Santa and Mrs. Claus, popcorn, reindeer food, a selfie station, s'mores station, and hot drinks.
The community and student involvement played a huge factor in the making of this year's Christmas in the Park a success. The township is run on volunteers. This is where the students at Limestone stepped up to the challenge. Mr. Zimmerman and Mr. Clausen gave a way for the students to give back to their community while having fun and making new friends.