Construction In Peoria County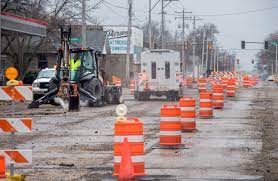 Drivers need to be aware of area construction and allow extra time getting to places in Peoria due to its massive construction projects. There is construction mainly around Airport Road, Kickapoo Creek, Knoxville, Bellvue, and Peoria Heights, and other areas. Drivers should use caution in construction zones, and make sure to stay extra safe on the road! Construction will continue on 474 in both directions. Illinois Department Of Transportation (IDOT) has construction zones between the Farmington Road exit and the Shade Lohman Bridge near Pekin. They also have construction on 474 between Airport Road and Farmington Road. The latest construction zones are at the 474/74 interchange. Be aware that the construction zone has a 45 mph speed limit.
Kickapoo Creek Road between Airport Road and Bartonville has recently opened.